My foals are stunning!

Please visit the 'offspring' section for infis about my beautiful babies! Pictured here is Shappeloup ARA (Marjan Albidayer/ ZT Shakgeyma), geb. 05.2017, bred&owned by Alban Kroesbacher of Alprausch Arabians.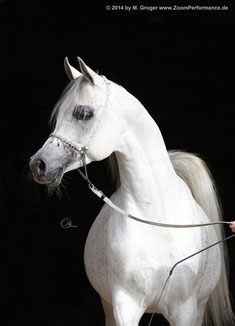 Success at Europeans!!!
In Nov. 2015 Marjan celebrated his biggest success up do date: He became European Bronze Champion in Verona! 
The day before, he got second in his class with the same score as the first placed horse - a well known Tripple Crown Winner!

Congrats once again for an outstandig perfomance.
Marjan's success in Wels                                      May 2015

Marjan won the Austrian Nationals in Wels.

The next day, he became Silver Champion at the International Show as well.

Gold Champion in Aintree                                    June 2014

Congratulations to Marjan Albidayer - GOLD Senior Male Champion on his debut in the UK, shown by Michelle Lyall!

Marjan travels to Great Britain
Marjan Albidayer is leased out for the breeding season 2014 to Affinity Arabians of Linda Lyall/Great Britain. We wish you lots of success with our amazing Boy!

Bronze Champion Stallion Travagliato                May 2014
Marjan Albidayer rocked Italy! He was Bronze Champion at the international B-show in Travagliato! A great thank you to Michelle Lyall Michelle for a superb job for Specifically Equine Training Center!

Gold Champion + Best in Show Swiss Mountain Cup Aug 13

Marjan won his class, the Gold Champion Senior Stallion Title and was also elected as the best horse of the Show in Switzerland!

German Senior Stallion Champion                     Sep.12
Marjan wins the German Nationals again, after winning it in 2009 as a Junior, already.
Best in Show at Ittenwiller                               summer 2012
Marjan wins the Class, the Senior Stallion Championship and has the highest score at the International C-Show in Ittenwiller, Alsace, France. 
New Marjan foals born                                          Spring 12
Happy news at beginning of spring: new Marjan foals were born. As soon as we have pictures, they will be posted in the OFFSPRING section.
Marjan 4th in Paris                                                  Dec 11
Marjan 4th in class at the World Championship in Paris. He had the same amount of points as the 3rd classed horse, but had half a point less for type.
Fresh semen available for breeding                      March 11
Marjan is standing at Osterhof Stud in Germany until the end of April. Thus he's ready to send fresh semen to all the beautiful mares out there. If you would like to breed your mares to him, please contact him or his agent Mary Lang now.
Marjan nominated Futurity Breeding Stallion         Feb.11
Marjan was nominated as aa Futurity Breeding Stallion by Arabian Futurity Europe for the first time. Thus his offspring is allowed to participate at Futurity Cups from 2011 to 2016. (more info)
Marjan Class Winner & Bronze Champ (Italy)        Nov. 10
After a great start, now a nice end of Marjan's show season 2010. After winnig the 2-year old stallion class on Saturday, Marjan was able to win Bronze in the Junior Stallion Championship at the International B-Show in Verona on Sunday.
Marjan Champion in Manerbio (Italy)                    July 10
What a great start into the show season 2010. After Marjan was able to win the class in his first show this year, he also managed to win the Junior Stallion Championship at this International B-Show the following day.
Marjan registered as breeding stallion                    July 10
At the regional stallion licensing event in Ansbach (Germany), Marjan was offically registered as breeding stallion by the German Arab Horse Society. After presenting himself very well, he got a recommendation to join the national licensing show later on this year.
Marjan starts his breeding career successfully
Early in spring 2010, Marjan started his breeding career. After some practice, he found out that servicing is an awesome job. Lately, he succeeded in becoming a young dady. So if you have beautiful mares for Marjan, please contact him now so he can make sure he'll have time for her next spring ;-)
Marjan Albidayer Champion at German Nationals
After winning the yearling class, Marjan also could convince the judges in the final round at the German Nationals in Aachen. He won and is the 2009 German Junior Champion. (details)
Marjan Reserve Champion & Bronze Champion
Marjan wins the Reserve Junior Champion Title in Boario Terme (Italy) at the International B-Show.
Just one week later, he wins the Bronze Junior Champion Title in Baden-Baden (Germany) at the International B-Show.
Open House pictures online
New pictures of Marjan from the Open House event are online now. The pictures were taken by Doris Dobetsberger. Thanks for her help and her work!
Marjan wins second place
Marjan wins a great second place in the Yearling class at the International A-Show 2009 in Wels, Austria.
Marjan Homepage is online!

Welcome to the new homepage of beautiful Arabian fullblood colt Marjan Albidayer.